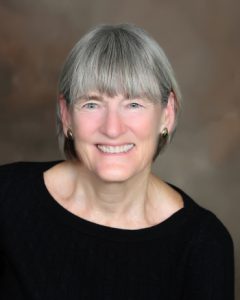 Louise Ferguson is a UC Cooperative Extension Specialist and faculty member, starting in the Department of Pomology in 1984, then joining the Department of Plant Sciences when pomology merged into the new plant sciences department in 2004.
Her extension work is in fruit trees such as pistachios, olives, figs, citrus, and other subtropical fruit crops. Research areas include mechanical pruning and harvesting of pistachios and olives, development of disease-resistant and salinity-tolerant rootstocks for pistachios, production of pistachios in saline soil, breeding of new fig varieties, and new mandarin variety evaluation trials.
Ferguson coordinates and leads the California statewide Cooperative Extension (CE) programs for pistachios, table olives, and figs. Working with CE farm advisors throughout California, the team coordinates statewide meetings, short courses, and field days with strong industry support, including overseas participants. The team produced two versions of the industry-focused UC ANR Olive Production Manual, with Ferguson as coordinating editor. She was also co-editor of ANR's first Pistachio Production Manual and Citrus Production Manual.
A major industry outreach and online resource is the Fruit and Nut Research and Information Center (FNRIC), centered in the plant sciences department, and established by Ferguson in 1996. She served as the center director for 16 years.
Ferguson is also acclaimed for her international agricultural development work in Afghanistan, Egypt, Iraq, and Pakistan. She is recognized as an international leader in knowledge extension related to fruit tree crop production in many countries around the world. She also mentors numerous students, postdocs, visiting scientists, and colleagues in California, the U.S., and internationally. She was on the board of directors of ASHS, was chair of several UC systemwide workgroups, and was associate editor of the journal HortScience, along with being active with the International Society for Horticultural Science. She twice served as president of the Plant Growth Regulation Society of America. Ferguson is currently serving as the UC Davis core faculty member of California's Agricultural Leadership program.
Ferguson's strong leadership, research, and extension programs for the tree fruit and nut industries is exemplary, thus earning her this award. In 2014, Louise Ferguson received the Outstanding Extension Publication Award from the American Society for Horticultural Science.